1. Himeji Castle
Exploring the castle town on foot
Registered as one of the first UNESCO World Heritage Sites in Japan and also designated a national treasure, Himeji Castle is Japan's most famous fortress.
It is also known as White Egret Castle because of its brilliant white exterior and supposed resemblance to a bird taking flight.
Sitting atop a small hill in the center of town, its dominating and graceful appearance is breathtakingly beautiful.
Get a glimpse about Himeji Castle
---
Take a walk around the castle town
What is a castle town?
A castle town is a type of town in Japan that developed around the castle where a feudal lord usually resides, but even though they emerged during Japan's Warring States period (1467–1615), their appearance and functions have continued to change with the times.
We recommend walking around Himeji to see first-hand the traces of this once-bustling castle town still evident here and there.
The sightseeing loop bus is a convenient way to see most of the sights situated in the vicinity of Himeji Castle.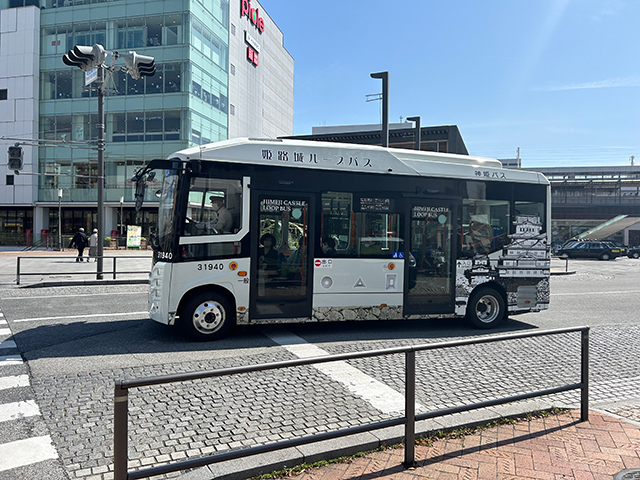 Himeji Castle Loop Bus Route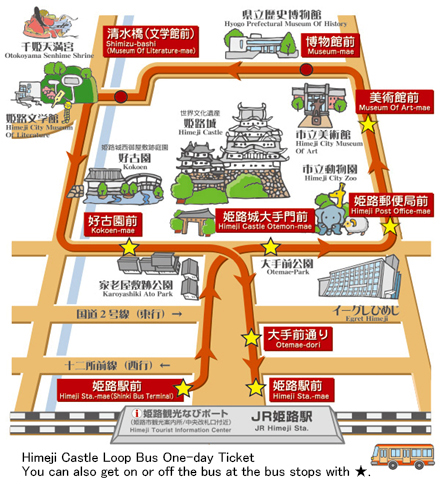 ---
Getting to Himeji Castle from Kobe
Transportaion:JR / Shinkansen
Travel Time: 60 mins (one-way)
Fare:990 yen (one-way)
For JR pass holders, take a shinkansen from Shinkobe Sta. to Himeji Sta.

JR Himeji Station

Himeji Castle Loop Bus
Fare: 100 yen per ride
(*1-Day Ticket is available for 400 yen)

Himeji Castle

---
Places a bit further afield of Himeji
Getting to Himeji Castle from Kobe via Shoshazan Enkyoji Temple
Transportation: JR/Shinkansen and local bus
Travel Time: approx.100mins(one-way)
Fare: 990 yen(one-way)
For JR Pass holders, please take a Shinkansen from Shin Kobe Station to Himeji

Local bus
*Mt. Shosha Ropeway Package Ticket is available(see below)

The Mt. Shosha Ropeway

Local bus

Himeji Castle Otemon Gate/Kokoen Garden

A 3-minute walk

Himeji Castle
Mt. Shosha Ropeway Package Ticket
Ticket includes:
1. Round-trip bus ticket from Himeji Station to Mt. Shosha Ropeway.
2. Mt. Shosha Ropeway round-trip ticket: Base station to summit.
Adults: 1,420 yen/Children 710 yen